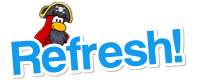 Tips To Finding Rockhopper
Want to find Rockhopper? Below are some tips on how you could find this famous pirate and you can also take a look at what Rockhopper's player card will look like.
Online, Rockhopper is currently a red penguin with a black beard, black eyebrows, a black/white/yellow pirate hat with a reindeer puffle logo printed onto it, and a red, gold, white and green pirate jacket with a brown pirate belt. He currently has Christmas lights in his beard, and is wearing a Santa hat on top of his normal pirate hat. Usually he has his puffle, Yarr, as a hand item.
Rockhopper is most likely to be in a full room. He can travel all around Club Penguin, so keep a good eye out for him! You can most likely spot him on his Ship, the Ship Hold, the Captain Quarters or maybe even the Crows Nest!
Other penguins may try to divert you from the room Rockhopper is really in, so when trying to get in, don't trust others. They may say he is on a different server, or in a different room ,or maybe isn't even there but they could just be trying to get you away so they can get in! Besides, if they knew where he was, why wouldn't they be there at the moment?
Rockhopper can be found often on full servers like Blizzard, Mammoth, Frozen, Yeti & Parka! You may want to check those servers out before trying any others unless a tracker says they are on a different server!
There are usually a lot of penguins around him so you may want to check the crowd very closely to see which penguin looks exactly like him. Click his penguin and his player card will appear on your Club Penguin screen. You should see the player card above.