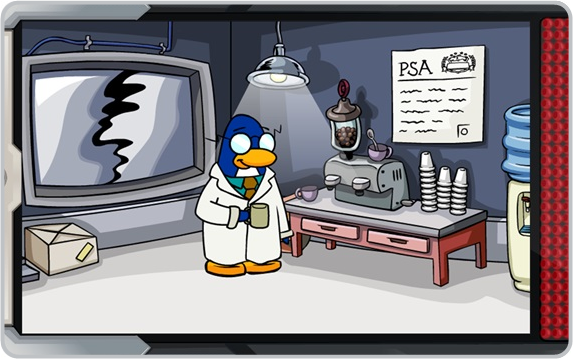 Have G let you into the Gadget Room to pick up the life preserver shooter.
Head over to the shelf with the life preserver shooter at the top of the shelf next to the table with the exploding boom box.
Inside the Lighthouse, you will need to scroll over to the red boat with the rope hanging out of it. Pick up the rope and add it to your inventory.
Head to the Ski Village, and talk to the crying brown penguin next to the broken ski lift. Accept the mission to fix the ski lift for him.
Waddle into the Sports Shop and scroll to the right until you find a lime green penguin with a big brown belt. Click the belt and add it to your inventory.
Then, head back to the Ski Village, click the ski lift, take the brown belt out of your inventory and add it to the ski lift to fix it. When done, make sure to pick up the white fur next to the ski lift.
Next, go to the Ski Lodge and scroll all the way to the right until you see the door to play Ice Fishing. Take the fishing pole next to the door and add it to your inventory.
Mix the fishing pole with the life preserver shooter, then mix the rope with the life preserver shooter and the fishing pole!
Click the giant landslide on the left-hand side of the Ski Hill to start your journey down to the area the trapped penguins are.
Find your way through the paths, but don't take the wrong path or you have to start all over.

SUGGESTION

: write down the correct paths you take so you know which path to take if you accidentally choose the wrong path.
Use the life preserver fishing pole on the broken hole on the ski slope.
1st - knock down the tree branches on the right-hand side with the life preserver. 2nd - grab the penguin on the tree branch. 3rd - with the 1st penguin still attached to the life preserver, grab the 2nd penguin below. 4th - set one penguin down on the broken tree branch then use the other penguin to grab the penguin below the broken tree branch. 5th - set all three penguins down behind the giant rock on the left-hand side to push the rock down to bump the last penguin up. 6th - grab all three penguins then hover down and grab the last penguin!
Give G the piece of white fur and end the mission.
Once you complete the 4th mission, you were able to receive another medal of excellence, a gift for fixing the ski lift and be able to read a message from Director (head of PSA and EPF

,)

however, you can no longer earn items from missions.
-->